P/N 236-801-3
FreezeCop TM is a microprocessor controlled digital freeze stat for HVAC water-to-freon heat exchangers. At its most basic level, FreezeCop prevents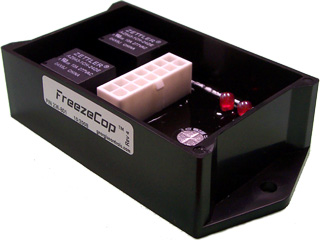 a liquid-to-freon heat exchanger in a heat pump from freezing. But FreezeCop offers so much more than a conventional freeze stat. FreezeCop accurately monitors the freon temperature and takes preemptive action to avoid freeze events.
When FreezeCop determines the heat exchanger is heading toward freeze up, FreezeCop will intelligently reverse cycle the heat pump and it will even disengage the compressor(s) if necessary to avoid imminent heat exchanger damage.
FreezeCop is housed in a 2 x 4 x 1.5" (5.1 x 10.2 x 3.8cm) ABS box with two mounting tabs. Inside, there are status LEDs and the control board is potted in epoxy to protect it from corrosion and ESD. On top, there are connections for 24VAC, temperature sensor(s), an NC compressor cutout relay, an external temperature select, and reversing valve drive.
FreezeCop is compatible with Georgia Controls Type 1 temperature sensors. FreezeCop can have anywhere from one to five remote sensors. Because FreezeCop's job is to avoid frozen heat exchangers, when more than one temperature sensor is connected to a FreezeCop, it responds to the coldest sensor in the group. Any of the Type 1 temperatures sensors can be connected, but family code 26 is the one that is normally used (P/N 236-800-26).
For more information see: FreezeCop Operation
OEM temperature setpoints and pricing available. E-mail or call for more information.
Hydro-Temp geothermal heat pumps use FreezeCop technology.