P/N 236-803
Principally used for variable speed fan interfacing, VPV Converter TM is a microprocessor controlled signal converter for residential and commercial HVAC systems. There are two ways VPV Converter can be connected. The first way, "VP", allows a controller producing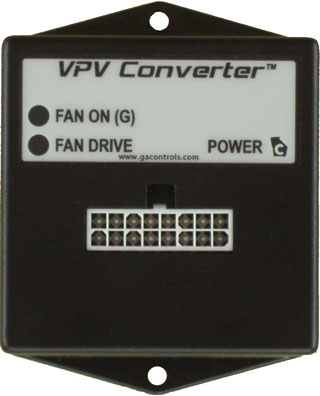 a variable voltage output to drive an ECM type fan motor requiring a PWM drive signal. The second way, "PV" allows a controller producing a PWM ECM output to control a variable voltage drive fan. Only one device needs to be stocked to do both jobs because VPV Converter detects the type of signal from the controller, and creates the appropriate output to drive the fan automatically.
| Inputs | Outputs |
| --- | --- |
| 0 - 10 VDC | 12 VDC PWM |
| 12 VDC PWM | 0 - 10 VDC |
| | "G" Fan Drive |
| | Relay Closure |
VPV Converter uses analog and digital filters to reject electrical line and system noise. This allows VPV Converter to respond only to the actual input signal and ignore electrical transients caused by motor brushes, contactor arcing, and other noise sources commonly found in HVAC systems.
VPV Converter is compatible with Georgia Controls Atlanta Series controllers, allowing them to drive 0-10VDC variable speed blowers. VPV Converter can also connect to controllers with 0-10V outputs to drive ECM type blower which use 12VDC PWM to control their fan speed.
VPV Converter is housed in a 3 x 3 x 1.5" (7.6 x 7.6 x 3.8cm) ABS box with two mounting tabs. Status LEDs are visible through the graphic overlay on the front, just above the device connector. All input, output, and power wires are installed in a single, locking connector, making mounting and harness connection a snap.
Sold in OEM quantities only. E-mail or call for OEM pricing.
Operating Specifications

(Ta=25C)
Power Requirement
Voltage
24VAC
Current
55mA Typ
DC Input
Step Response
10s Max
Turn-on Threshold
0.5V +/-0.1V
Tolerance
+/-1.5% Typ
+/-2.5% Max
PWM Input
Frequency Response
20 - 20,000Hz
Voltage Output
Tolerance
+/-1% Typ
+/-2% Max
PWM Output
Frequency
125Hz Typ
Duty Cycle
5 - 100%
Amplitude
0 - 12V DC
"G" Output
Voff
0V DC
Von
12V DC
Relay Closure
Vmax
40V DC
28V AC
Imax
250mA
Environmental
Operating Temperature
10 - 50C
Humidity
5 - 95%, non-condensing